IE BUMPER
A Field Guide to Group Emails at University of Texas at Austin
Article Number :
KB0018288
Published on :
2020-08-28
Last modified :
2020-08-28 20:44:30
Knowledge Base :
IT Public Self Help
Organizations within and representing the University of Texas at Austin use many different services providing mass notification emails. This article attempts to distinguish the major services currently in use and to allow the recipient to identify which service is responsible. Also, it is hard to know who can help directly with a particular issue, so identification can help receivers reach out to receive timely assistance.
The primary means of distinguishing email services involve sensitization to the bottom of a message (known as the "footer"). If there is still difficulty in identification, the headers of the message (found through a message's "properties" using the email client) also provide important recognition clues.* In addition, general email design and sender format can sometimes be helpful as well.
(1) University Group Email using Emma
UT-internal at this time mostly, though experimental use with smaller external audiences are taking place. Emma Email Marketing is a vended email marketing service adapted for UT use.
Footer: There can be two varieties of message. One always has "- Official" in the name, and these cannot be unsubscribed from:

The other may have "- Informational", or no message type, but never "- Official". These can be unsubscribed from per sender group:

In the above example, clicking "Unsubscribe" will result in the recipient being unsubscribed from the subaccount "Staff Council – All Constituents – Informational".
Additionally, there is never a clickable link to unsubscribe from all optional Group Email messages at once. Accidental unsubscription may result from forwarding informational messages to colleagues.
Recipient: At this time, recipients are (with few exceptions) displayed in the form of Institutional Identifier (that is, with format <eid>@eid.utexas.edu).
Header record: Emma headers will always contain a reference to being "Received:" from a server at "e2ma.net".
Other troubleshooting tips: (1) Please check to make sure that your official University of Texas email address is valid. (2) Group Email using Emma can only guarantee delivery to "utexas.edu" addresses.
For assistance: Please contact group-email@utlists.utexas.edu or route to ServiceNow assignment group ITS-Systems-Group Email. ITS Campus Solutions provides stewardship. Permission for use resides in University Communications and a few other high-level communications officials at the university.
Notes: (1) Employees with @arlut.utexas.edu receive messages with official address. (2) UT Continuing Law Education has for now a separate account with Emma.
(2) Eloqua
Primarily designed for use to enable communications to recipients external to UT Austin but can also be used internally, generally using official University email address.
Footer: The following is a sample footer from an Eloqua email:

The following is a sample Eloqua footer as sent out through the Office of the President. Most importantly, please note that there is no unsubscribe option in the email footer:

Header record: Eloqua headers contain a reference to being "Received:" from a server at "econnect.utexas.edu".
For assistance: Please contact eloqua-support@utlists.utexas.edu or route to ServiceNow assignment group Development-Office-VIP-Help. The UT Development Office provides stewardship as well as permission for use to other departments. Training is required to use the service; search for "Eloqua" in UTLearn for VI 250 Eloqua and similar classes.
Note: Most Eloqua messages offer the option to "unsubscribe from all" UT Austin emails; however, this action will affect only emails from the Eloqua service, not any other service used by the University.
(3) UT Lists

Messages from UT Lists are generally hand-curated in both senders and recipients. UT Lists is an option for ad hoc lists which may contain members both internal and external to UT. UT Lists is based on Sympa, an open source mailing list manager.
Sender: Always includes "utlists.utexas.edu". For example:
batchnotify-request@utlists.utexas.edu on behalf of *TXNOTF donotreply@austin.utexas.edu
Subject: The list name is sometimes but not always shown in square brackets (e.g., [batchnotify]) in the message subject.
Recipient: The email address of the list always contains "utlists.utexas.edu". No mention is made of the individual recipient in the field.
Footer: There is no characteristic footer information. This sets UT Lists/Sympa apart from marketing-based group-email solutions.
Header Record: Under Authentication-Results, the smtp-mailfrom=utlists.utexas.edu. (The information in Received: also reference both sympa and utlists, the latter in the server-name.)
For assistance: Please contact UT Service Desk and route to ServiceNow assignment group ITS-Systems-Listmaster. The ITS Enterprise Services team are stewards. No special authorization is required to use the service. However, at least one of the list owners must be a current UT employee or student. Important note: Always log in to the UT Lists interface using an email address, never an EID.
(4) Miscellaneous
Various entities within UT Austin use other vended email products to promote their organization, generally through subscription and other request methods. Examples include:
The Blanton Museum of Art uses Mailchimp.
Footer: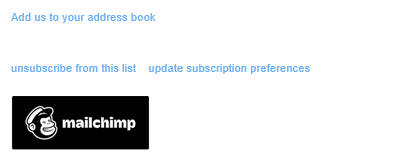 Header Record: Under Authentication-Results, header.d=mailchimpapp.net
Texas Memorial Museum uses Constant Contact.
Footer:

Header: Under Authentication-Results: smtp.mailfrom=in.constantcontact.com
In addition to marketing services, there are other group email services used on campus:
austin.utexas.edu lists
its.utexas.edu lists
Texas Exes uses several different services
Colleges and departments are believed to retain contact lists for diverse purposes
We'll be happy to add documentation in this article to compare/contrast these and other email services as requested.
------
*Headers should be construed as similar to the "head" area in html and not part of the "body"; that is, a header does NOT correspond to top of a message. the way that the footer corresponds to the bottom of a message
Thank You! Your feedback has been submitted.
Feedback