IE BUMPER
Approving a Message in Group Email (Emma)
Article Number :
KB0017573
Published on :
2020-07-28
Last modified :
2020-07-28 19:27:30
Knowledge Base :
IT Public Self Help
Message Review Process
For an overview of the message review and sending process including steps on setup for approval notifications, please click here: https://help.myemma.com/s/article/Send-process-for-Authors-and-Editors-in-Emma-HQ-accounts
Roles:
Author: Can create (but not send) messages.

Manager: Can create, cancel, send and approve messages.
Notes:
Manager can send messages without a separate approval step. (See Getting Started article for details.)
Manager approves message from Author:
When logging on, Manager is taken to the HD Homepage (outside of all subaccounts).

Manager will be on the "Sent" tab by default.

If there is a message ready for approval, there should be a red asterisk after the "Upcoming" tab marking.

Select "Upcoming" tab.

View list of messages you can review. Select "Review" button for message you wish to act on.

If message date send time is in the past, schedule date/time will be in red. Must update in order to activate "Approve" button.

After reviewing, select "Approve" or "Deny".

Sending notification of action to author is recommended. (Please note that this is the only step in which the author's EID will be displayed to the manager.)

Sending specific reason to author is also recommended for Deny actions; message can also be specified on Approve action.

You may encounter a nonspecific error if one of the other managers has already approved or denied the message. (We are trying to get the error message displayed to be more specific.)
Recommendations:
All subaccounts should have a minimum of two managers for approvals and redundancy.

Ensure your email notifications are toggled on; when on, approval requests will be emailed to you.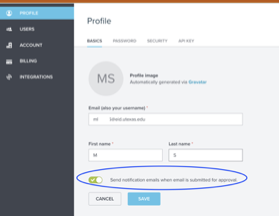 It is possible to include comments when approving or denying messages, which will be sent to the author of the message.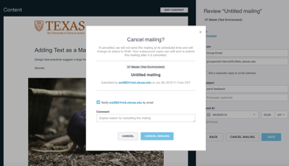 Thank You! Your feedback has been submitted.
Feedback