IE BUMPER
Office 365: Microsoft Teams
Article Number :
KB0016487
Published on :
2022-01-25
Last modified :
2022-01-25 21:06:14
Knowledge Base :
IT Public Self Help

Getting Started
What is Microsoft Teams?
Microsoft Teams is an application that functions as a chat-based hub for teamwork leveraging integrations with our Active Directory, Office 365 Services, and Office 365 Groups. It is a 'persistent' and searchable chat ideally suited for teams or projects.





An Office 365 Group allows you to collaborate with a set of people when writing documents, creating spreadsheets, working on project plans, scheduling meetings, or sending email. When placed within an Office 365 Group, members share resources like:

Outlook mailbox
Calendar
Sharepoint Team Site
Document Library
Planner (Project/Task Management)
OneNote
The abilities to collaborate within Microsoft Teams application can be enhanced using Tabs and Connectors to import and interact with external data and content.
How Do I Create and Join A Team?
To join a Team, you must be added by the Team Owner.
To create a Team, open a Teams client. Click in Teams, on the far lower left you will see "Join or create a team".
Accessing Teams
Downloading Desktop Application: Visit the Teams website
Downloading Mobile Application: https://aka.ms/getteams
Accessing Teams through the Outlook Web Application


Login to https://office365.austin.utexas.edu
Click the waffle menu at the top left of your screen
Click Teams from the application menu
Supported Browsers: Browsers do not support video conferencing at this time. You must download the desktop client.


Internet Explorer 11
Microsoft Edge
The latest version of Chrome, plus two previous versions
The latest version of Firefox, plus two previous versions


NOTE: Firefox on Windows 10 is NOT supported by Teams
Set Up
Team Set Up and Structure
A Team is a collection of people, content, and tools surrounding different organizational groups, projects, services, or products.
Channels are sections within a team dedicated to keeping conversations organized. There are places where everyone on the tam as access to files and tools specific to the conversation. Channels can be extended through Tabs, Connectors, and Bots.
Your Team represents the access boundary to group conversations, application data, and content – any member of your Team will have access to your document library, inbox, calendar, project management applications, notes, and more at any time.
Learn more about channel conversations vs. private chats.
Here are some sample Teams and their channels to give you an idea of common structures:
For more information, you can watch the 5 Minutes to Setting up Great Teams, Channels and Tabs video from Microsoft.
Chat
Notifications
Activity Feed
Use the activity feed to get a summary of updates for things happening in channels you follow.
Activity Feed Symbols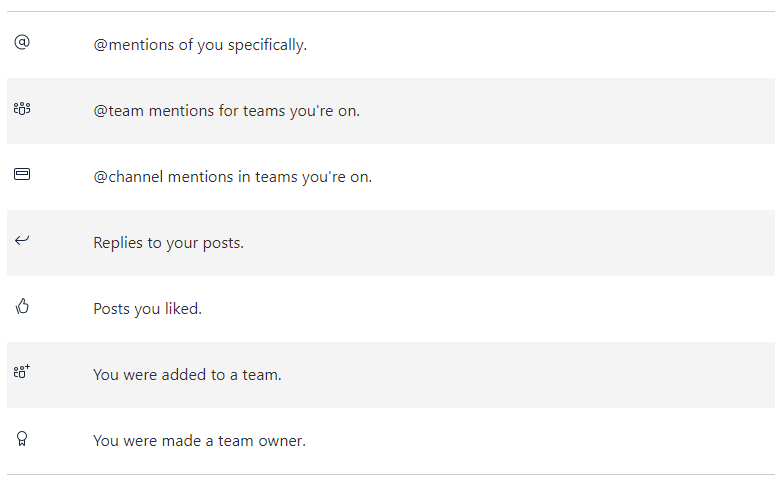 Meetings and Calls
Meetings
A team meeting is held on line in a channel. Team meetings are open, so anyone on the team can join in.

Document Collaboration
Document Storage
Microsoft Teams, Sharepoint, and OneDrive
Each team in Microsoft Teams has a team site in SharePoint Online, and each channel in a team gets a folder within the default team site document library. Files shared within a conversation are automatically added to the document library, and permissions and file security options set in SharePoint are automatically reflected within Teams. You can find more information here.
Teams Help
Thank You! Your feedback has been submitted.
Feedback