IE BUMPER
Incidents: Processing Spam or Cancelled Incidents
Article Number :
KB0014578
Published on :
2021-05-03
Last modified :
2021-05-03 17:48:47
Knowledge Base :
ServiceNow - Public Self Help
About Spam in ServiceNow:
Servicenow is not filtering spam. If you are having issues with spam, you are encouraged to utilize spam filtering within your email client, as you can directly control and audit spam coming into the system. This allows you to audit any incorrectly marked spam and send it to ServiceNow. Please contact your email administrator for any questions about spam filtering.
Process for categorizing and closing Spam or Cancelled Incidents:
To quickly close spam tickets, scroll to the Related Links section of the Incidnet form and click Spam.
The incident will automatically be categorized as Inbound Email Spam and closed. You will be returned to your previous ServiceNow screen.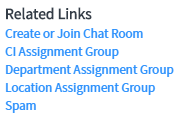 Tip: Your team/department may want to establish a standard Short Description for Spam incidents to facilitate accurate reporting.
Thank You! Your feedback has been submitted.
Feedback