IE BUMPER
Wi-Fi Access for Visitors
Article Number :
KB0011686
Published on :
2018-08-09
Last modified :
2018-08-09 17:42:40
Knowledge Base :
IT Public Self Help
Visitors to Campus
The university has an arrangement with AT&T to provide Wi-Fi access for visitors on campus. Visitors may use a credit card to purchase service similar to other commercial venues. Visitors simply select the attwifi network on their device, open their web browser, and follow the instructions.
All support for the attwifi network is provided by AT&T Wireless Services at (877) 929-7678. ITS does not have access or visibility into AT&T's system to provide any meaningful support.
Note: This service will be replaced by the end of December 2018, information on the new services for visitors will appear here when available.
Note: AT&T Wi-Fi Network is not available in the university residence halls and certain venues during the school year.
---
Sponsoring Visitors, Guests, and Affiliated Workers
Departments can sponsor access for visitors using a few different mechanisms. ITS does not create or sponsor guest accounts for department visitors.
Sponsoring Guests on attwifi
Note: UT Austin faculty, students, and staff may not use coupon codes to connect to the attwifi network.
Departments may purchase coupons from the Campus Computer Store using a ProCard or purchase order to grant visitors (e.g., conference attendees, guest lecturers, and others) access to the attwifi Wi-Fi network. These coupons will all stop working as the service is retired in December 2018, departments should plan any purchases appropriately. Pricing is available only through the Campus Computer Store. The coupons will look something like below: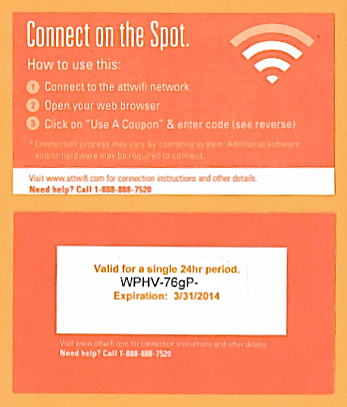 Printed coupons provide unique individual codes, are valid for 24-hours from the time of redemption and may be used on up to three devices. Printed coupons can be purchased in quantity in advance of expected visitors, so they are readily available for the department staff to distribute. Unused printed coupons expire after one year.
Conference codes are shared codes that are available for groups visiting campus for a limited time (less than 1 week duration). To obtain a quote, departments must provide the Campus Computer Store with the number of devices they wish to connect and the dates of the conference.
Sponsoring Affiliated Workers
Longer term visitors who require regular access to the network (e.g., visiting researchers on campus for a semester, or long term contractors) will need an Affiliated Worker account to access the utexas Wi-Fi network.
Visitors in this role will need to create a UT EID
if they do not already have one. Once the EID has been created, administrative staff from the sponsoring department will need to assign the correct affiliations and entitlements in the EID system. For more information on affiliate workers please see the Introduction to University Affiliate Positions page; see the Public Network Access notes in the Privileges section for details.
Sponsoring Guests on utexas
In limited circumstances a department TSC may sponsor a guest ID to use on the utexas Wi-Fi network. The sponsoring department incurs liability for the guest's activity while on the utexas network and is solely responsible for end-user support for the guest's devices. Guest IDs created in this manner only function on the utexas Wi-Fi and will not grant access to any other services requiring a UT EID.
Departments should consult with their Technical Support Contact (TSC) to seek sponsorship assistance.
Permalink: /utss/KAhome.do?number=KB0011686
Thank You! Your feedback has been submitted.
Feedback